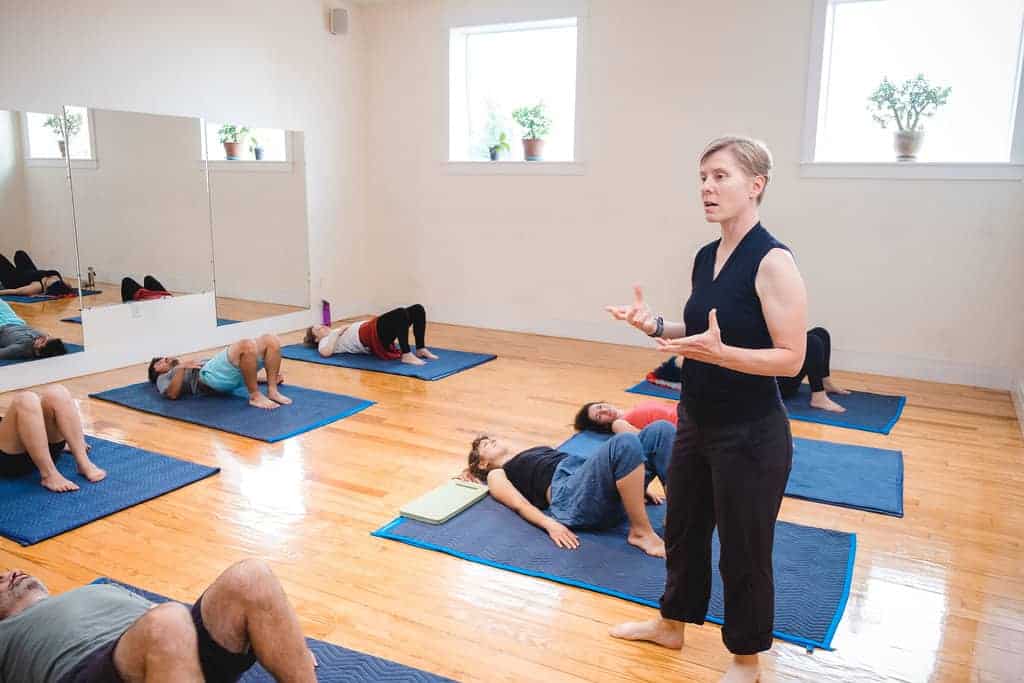 Finding Breath
Instructor: Fritha Pengelly
December 1, 2022, 10:30-11:30am
December 2, 2022, 3:15-4:15pm
December 3, 2022, 11:30am-12:30pm
ONLINE 
"We change our breathing when we hesitate, become interested, startled, afraid, doubtful, make an effort, or try to do something. Our breathing is affected in different ways, from our completely holding our breath to shallow and rapid breathing that seems like and inability 'to get any air.' "
Moshe Feldenkrais, Awareness Through Movement
Are you finding it difficult to take relaxed, full breaths?
Do you wonder how your posture might be affecting your ability to breathe?
Perhaps you are curious about how your breathing is affecting your posture!

In this workshop we will explore the movement of the breath in relationship to movement of the whole body in order to find expansiveness in the chest and ribs and length through the spine.
Through Feldenkrais Awareness Through Movement® (ATM) lessons discover the habitual movements that are getting in the way of full, deep, and easy breathing, and take away with you easy-to-do movement explorations to help you find this ease on your own.
No experience necessary – all are welcome!

December 1, 10:30am: It's all Connected
In Patrick McKeown's book The Breathing Cure, he discusses three fundamental aspects affecting functional breathing: biochemistry, biomechanics, and psychological elements. It's all connected… how we feel, what we think and believe, and how we move and how we breathe. We begin this series with a class focused on the biomechanics of breathing by exploring the relationship between nasal breathing and the use of the diaphragm, and how they are deeply connected. You will also be invited to notice how feelings and beliefs perhaps affect the biomechanics of your breathing and vice versa!
December 2, 3:15pm: Less is More
Many of us, if not most of us, breathe too much. Surprising? Carbon dioxide is considered a waste gas, but it is actually necessary for the release of oxygen into our cells! If we breathe too much or too fast we may have a lot of oxygen in our lungs, but not enough carbon dioxide to help release it from the blood into our cells. Want to learn more? Join me on this adventure! We will continue to explore the biomechanics of breathing and how using our diaphgragm contributes to our ability to truly get a deep breath that nourishes our cells with oxygen.
December 3, 11:30am: Timing is Everything
Respiratory rate makes a big difference in our capacity to utilize oxygen. In this lesson we will explore the timing of our inhale in relationship to our exhale and how slowing the cadence of our breathing is essential for improving functional breathing. Remember, it's all connected…
Feel free to attend just one of the classes, or all three. Each class will build on the previous lesson, but each lesson will also stand on its own.
$40 for the series
Friday and Saturday ONLY $26

$17 drop-in
In line with the Center's efforts to promote racial equity and justice we are inviting Black, Indigenous, and other People of Color to attend at no charge:
Use Coupon Code: Fee-waived2