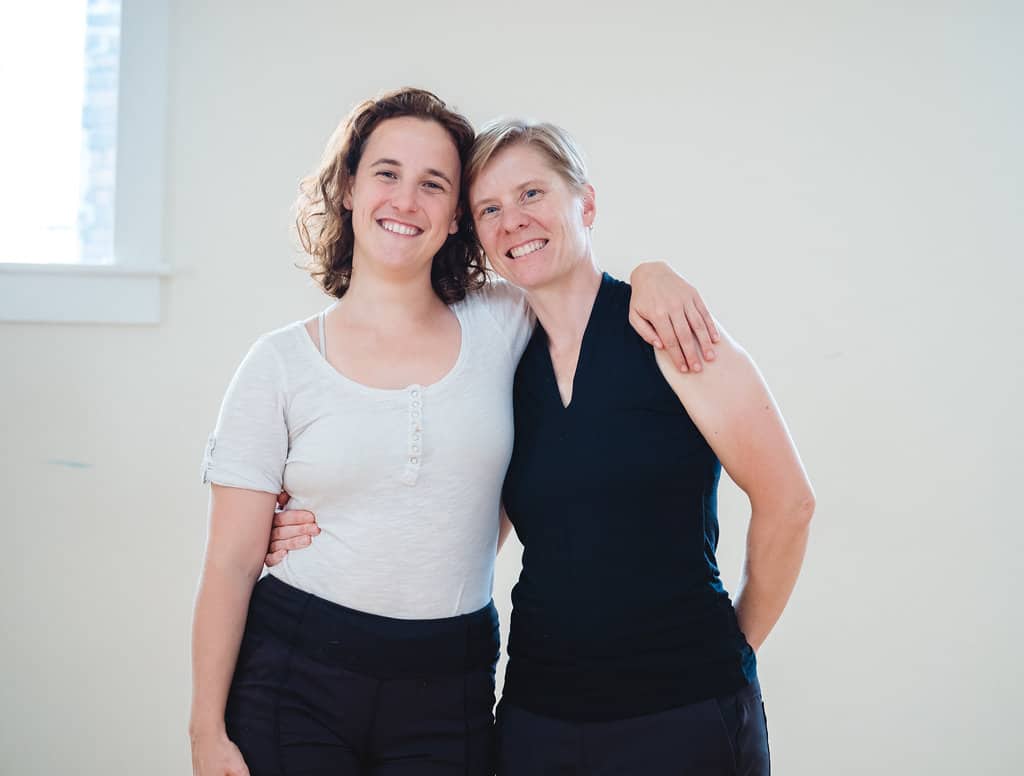 4-week Workshop Series
Combining The Feldenkrais Method

®

with EFT (Emotional Freedom Techniques)
Limited to 12 Participants.
Reserve your spot now!

Instructors: Fritha Pengelly and Sarah Young
Wednesdays, 10:30am-12pm EST
May-June dates TBA – stay tuned!

Full Series Registration ONLY, no drop-ins
ONLINE
"Anxiety can be a positive, useful phenomenon. It assures our safety from risking what we feel would endanger our very existence. Anxiety appears when deep in ourselves we know that we have no other choice – no alternative way of acting… Without learning to know ourselves as intimately as we possibly can, we limit our choice. Life is not very sweet without freedom of choice. Change is very difficult with no alternatives in sight; we then resign ourselves to not dealing with our difficulties as if they were prescribed by heaven."
Moshe Feldenkrais, The Elusive Obvious 
Are you feeling that your anxiety is not a "positive, useful phenomenon" but rather it is limiting you from making changes in your life?
Maybe you are feeling exhausted by life, rather than inspired by it? 
Or, perhaps you're finding it difficult to breathe with ease?  
 In an uncertain, ever-changing world, we develop stable patterns of behavior through spontaneous engagement with our surroundings. These responsive patterns allow us to function successfully – to survive in our specific environment.
Sometimes these habits and patterns become outdated and limit us from responding with resilience and choice to our current situation. 
If you're feeling anxious, stressed-out, or overwhelmed by uncertainty in your life, and you need support in building emotional resilience and a sense of agency within yourself, join Fritha and Sarah for a workshop that combines Emotional Freedom Techniques (EFT) with the Feldenkrais Method®.
EFT tapping is a gentle technique that helps reduce stress and the effects of prior experiences so that we can stay present to the moment, responding with choice rather than (re)acting without choice. 
The Feldenkrais Method® provides opportunities to sense, through movement, our habits and patterns and how they relate to our sense of ourselves in the world. Each Feldenkrais® Awareness Through Movement lesson is unique and offers simple, gentle movements to experience oneself in new ways.

Combining EFT tapping with the Feldenkrais Method® offers participants the opportunity to explore their experience of posture, emotions, personal beliefs, self-image and how behavior and habits are reflected in body and mind. Through experiencing themselves in new ways, choice becomes possible.
No previous experience necessary! 
Read more about the Feldenkrais® Method
If these are new methods for you OR
if you are not sure if this is the right fit for you:
Schedule a free 15-minute Initial EFT Consult with Fritha

 Testimonials:
"Feldenkrais and EFT together offered a way of releasing tensions held in my body and mind. With each session I have a deeper understanding of myself. Thank you!"
– L.L.
"This work has contributed a vital energy to my life that never existed before… people like Fritha and Sarah are truly, truly special for facilitating profound transformations among those they teach."
– Workshop Participant
"One of my favorite classes ever."
– Linda N.

"Feldenkrais and EFT are a powerful combination and one that I had never experienced before. The subtle tuning into the body (Feldenkrais) and the specific work on calming our physical and emotional responses to challenging situations (EFT) really worked for me and was a good reminder that I can change the perspective of both my body and my mind as they work together. Thank you , Fritha and Sarah!"
– Workshop Participant
"Fritha and Sarah create a safe supportive container to explore Feldenkrais and EFT. Both practices are so gentle that my nervous system relaxes and is able to unravel & process stress and old patterns."
– Workshop Participant
"My workshop experience with Sarah and Fritha was a lovely addition to my week at an especially stressful time in life. They both held the space with such grace and care providing an excellent learning environment!"
– L.O.R. 
Bio for Sarah Young:
Sarah is a Guild Certified Feldenkrais® Practitioner. Her ongoing curiosity of movement and an old dance injury led her to study the Feldenkrais Method® under the direction of David Zemach-Bersin, New York City, 2011-15. As a movement artist, Sarah has collaborated with and performed works by dance makers Nancy Stark Smith, David Dorfman, Jill Sigman, Hilary Easton, Stephan Koplowitz, and the Treehouse Shakers. She served as the Executive Director of Earthdance, Plainfield, Massachusetts from 2013-18. She is an Alum of the University of Illinois, Urbana-Champaign, BFA 2003, a Returned Peace Corps Volunteer, Morocco 2008-10, and a mother. She currently lives in Northampton, Massachusetts.
 Workshop Series Fee:
$120 early-bird ($145 after December 28, 2022)
In line with the Center's efforts to promote racial equity and justice we are inviting Black, Indigenous, and other People of Color to attend at no charge.
Use Coupon Code: Fee-waived2 
Registration Instructions:
1. Click Register button below
2. Set Time Zone
3. Click 'Continue'
4. Fill out intake form
5. Click 'pay now'
6. Contact us if you have any trouble