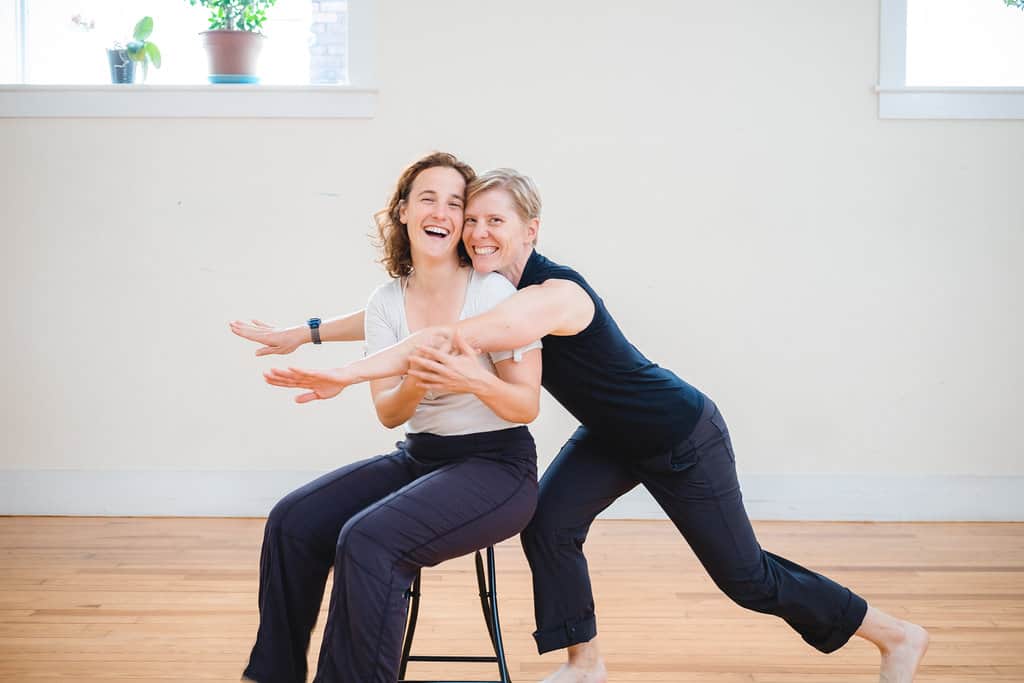 Moving to See: Exploring the Relationship Between the Eyes and Movement
Instructors: Fritha Pengelly and Sarah Young
Saturday, April 10, 2021
11:30am-2pm EST

ONLINE Workshop

Do your eyes feel tired and strained?
Are you experiencing headaches or tension in your head and neck?
Would you like to learn how to counteract the effects of spending more time looking at your computer?

Join Fritha and Sarah for a Feldenkrais® workshop exploring the relationship of the eyes to the movement of the whole self, and the importance of relaxing the eyes to improve function.
Calming the eyes helps calm the whole self during stressful times, so lessons focusing on the eyes can be beneficial for anyone needing support to feel more relaxed, connected and grounded.
Additionally, for those of you spending more time online, here's an easeful way to care for the eyes, and an opportunity for anyone with increased screen time to learn strategies to rest their eyes. When we look at a 2-dimensional screen we do not use our peripheral vision, which has so many implications for functioning of the eyes as well as how we relate to the environment around us.
If you're curious – join us!
Workshop will include exploration of Feldenkrais Awareness Through Movement® lessons and will include time for discussion and questions. No experience necessary – all are welcome!
Testimonials:
"Fritha and Sarah are an awesome team and this workshop was such a gift. I love slowing down and finding a way to feel, to release, to relax, and to allow my body to heal. Can't wait for another one!"
"Sarah and Fritha gently led me to an exploration of my way of seeing, helping me tune into patterns and possibilities and opening to a more multidimensional sense of presence. Loved every minute of it!"
"Feldenkrais practice is amazing in that it helps awareness of how we use and can better use every part of our bodies – even our eyes!"
Bio for Fritha Pengelly click here
Bio for Sarah Young: Sarah is a Feldenkrais Practitioner. Her ongoing curiosity of movement and an old dance injury led her to study the Feldenkrais Method® under the direction of David Zemach-Bersin, New York City, 2011-15. As a movement artist, Sarah has collaborated with and performed works by dance makers Nancy Stark Smith, David Dorfman, Jill Sigman, Hilary Easton, Stephan Koplowitz, and the Treehouse Shakers. She served as the Executive Director of Earthdance, Plainfield, Massachusetts from 2013-18. She is an Alum of the University of Illinois, Urbana-Champaign, BFA 2003, a Returned Peace Corps Volunteer, Morocco 2008-10, and a mother. She currently  lives in Northampton, Massachusetts.

$65 Early-bird  / $80 after April 3