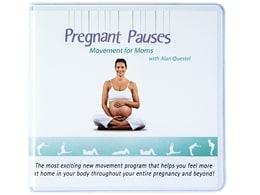 Pregnant Pauses

 
created by Alan Questel


Instructor: Fritha Pengelly
 
Mondays
January 25 – March 1, 2021

Noon – 1pm (EST)
ONLINE

If you're interested in joining, but missed the first class – no worries! We've got room, and we'll get you caught up. Reach out if you have questions.
Pregnant Pauses® is an exercise program specifically designed to change the way women experience pregnancy. An innovative and unusual approach to movement Pregnant Pauses® teaches you to use and move your body in a more intelligent, effective and efficient way. Utilizing the latest research in movement, Pregnant Pauses® alleviates pain and discomfort while increasing energy to ultimately provide a overall healthier pregnancy.
Pregnant Pauses® utilizes your nervous system's innate intelligence to bring about a new and more effective relationship between your muscular and skeletal systems. Based on years of research through wide-ranging applications, Pregnant Pauses® is a direct application of the Feldenkrais Method® of Somatic Education.
Alan S. Questel is the creator of Pregnant Pauses® – Movement for Moms. For over 30 years Alan has worked with pregnant women and has brought together an extensive knowledge about the movement needs women experience throughout their pregnancy and how they can move more easily and comfortably during and after their pregnancies.
Over 200 Feldenkrais® teachers all over the world are trained to teach Alan's Pregnant Pauses® program.
 $90 early-bird ($105 after 1/22)
In line with the Center's efforts to promote racial equity and justice we are inviting Black, Indigenous, and other People of Color to attend at no charge:
Use Coupon Code: Fee-waived2 
Registration Instructions:
1. Click Register button below
2. Set Time Zone
3. Click 'Continue'
4. Fill out intake form
5. Click 'pay now'
6. Contact us if you have any trouble